Haynes For Wyoming:
Why am I running for Governor?
I am the first person running for office to promote Wyoming's sovereignty and the absolute need to establish a constitutional relationship with the federal government. The vision I have shared with Wyoming voters for a prosperous and free Wyoming has shown signs of coming to life. I have learned to work effectively with the legislators and many agree it is time for Wyoming to realize her full potential and enjoy all the benefits she is due as a state.
I have the education and on-the-ground experience to facilitate this evolution. Working with the Legislature and using our constitutional rights for good as some other states have used theirs for subversive reasons, we can do great things. I have no intention of, and there is no need to, trust Wyoming's fate to the dysfunctional courts.
Why am I the best candidate?
I have a broad and deep experience in our free enterprise system and my success as an entrepreneur, business owner, and leader positions me uniquely to provide Wyoming the vision to lead her to a prosperous and free future.
Please go to my "On The Issues" tab to read my views on specific issues important to Wyoming citizens.
News
Saturday, August 18, 2018 12:00 AM
Democrats are pushing party switching for next week's election to encouraging support of the most likeminded, left-leaning, republican candidate Mark Gordon. To ensure we protect our republican values, we must vote for Taylor Haynes on Tuesday.
---
Monday, August 13, 2018 11:05 AM
Water attorney Harriet Hageman recently approached the Casper City Council with a proposal to join a Colorado-Wyoming coalition of water users, which now includes Torrington and Cheyenne, in a study of the feasibility of appropriating 35,000 acre feet of Green River water. Aaron Million has also approached these cities for support of his version of the project.

If successful, this project would usher in a new reality in water rights and use, with management driven from the national level down through direct administration by federal agencies. State water law, state water ownership, and individual water rights, as we know them, would be obliterated. The combination of high project supply costs with the introduction of speculation in the water market would result in declining water use, attendant escalating costs, and a self-feeding spiral of economic and societal impacts.


---
Sunday, August 12, 2018 10:48 AM
Harrington: Haynes poses threat to the Wyoming powers that be
By Bradley Harrington
"This whole thing has been an attack by the Cheyenne swamp; it seems as though Wyoming has its own Deep State out to perpetuate itself." – Taylor Haynes, Aug. 7, 2018
If there's been an issue in Wyoming gubernatorial politics that's roiled the waters more than the Taylor Haynes residency controversy, I sure can't think of it.
But first, let me make full disclosure: I support Haynes' run for governor, and it is my sincere desire that he be our next governor.

That position, however, does not blind me to the facts – and, for those who've been on Mars for the last several months, let's review the timeline:
On June 25, "An anonymous email – signed by 'Anonymous Citizens of the State of Wyoming' – was sent to the Laramie Boomerang ... from a protonmail.com address, an encrypted email service. The email said Haynes "has misrepresented his residency in order to meet the qualifications for elected office." ("Haynes: Residency accusation a pack of lies," www.laramieboomerang.com, July 10.) Subsequent information makes it clear that this email was sent to all major Wyoming news outlets.
On July 5, WyoFile breaks the following news story: "A complaint has been filed against gubernatorial candidate Dr. Taylor Haynes ... Records suggest the complaint could involve the legitimacy of Haynes' claim of Wyoming residency in his filing for his current campaign for governor." ("Gubernatorial candidate Taylor Haynes' residency questioned," www.wyofile.com.) The core of the complaint is that Haynes' ranch – the Thunderbasin Land, Livestock and Investment Company – straddles the border of Wyoming and Colorado, with the actual residence buildings on the Colorado side.
Two days later, in a video posted to his website, Haynes calls the accusations "a pack of lies" and states that "he has lived, worked and paid taxes in Wyoming for nearly 35 years with no residence in any other state." On July 9, Ed Buchanan, the appointed Wyoming secretary of state who quit gubernatorial candidate Harriet Hageman's campaign to accept that job back in May, makes it known that both his and Wyoming Attorney General Peter Michael's offices are reviewing the matter.
On July 21, the Wyoming secretary of state and attorney general's offices declare that "Haynes is not eligible to run for governor," that the "Republican candidate's ranch home lies in Colorado," and that they are seeking a court ruling "ordering Dr. Taylor Haynes to withdraw from the race or otherwise cease his campaign." ("Wyoming officials: Haynes 'not eligible' to be governor," WTE, July 22.) A hearing is set for Aug. 1 and a trial date for Aug. 7.
On Aug. 3, Laramie County District Judge Thomas Campbell throws out the entire ball of wax, declaring that "it is impractical and unfair to the Defendant to bypass the Wyoming Rules of Civil Procedure entirely and compress the litigation process into less than a three-week period" – as plaintiff Buchanan had been demanding. Campbell also notes that "at this juncture, the affidavits and the parties' assertions might be sufficient for the court to doubt the likelihood that the Plaintiff will prevail on the merits." (Docket No. 190-183.)
So, Dear Readers, just exactly what is going on here? An "anonymous" source, completely devoid of the guts to stand up and make these accusations in public, argues that Haynes' ranch buildings are on the Colorado side of the border – and that this fact should invalidate Haynes' gubernatorial campaign.

And yet, as Haynes has stated repeatedly, his ranch, addressed at 795 Bull Mountain Road, Laramie, WY, 82070, has ALWAYS been considered as a Wyoming address.
To verify this, I contacted Ruth Rowe, the individual who sold Haynes the ranch and who lived at that property for about 20 years prior to that sale. When asked that question directly, she said: "My address has always been 795 Bull Mountain Road in Laramie, Wyoming. It was printed on my vehicle registrations, my driver's license, my tax forms, you name it."
So the question then naturally arises: Since 795 Bull Mountain Road has ALWAYS been considered by both Colorado and Wyoming as a Laramie address, what would motivate everyone to start thinking differently about it now? The fact that it's now owned by Taylor Haynes?
Powerful political forces and people, obviously, are out to ensure that Haynes does not become Wyoming's next governor. And, when considering the fundamental planks of Haynes' campaign – promoting our individual liberties, coupled with a greatly reduced federal involvement in our state – it doesn't take a rocket scientist to figure out why. Haynes poses a threat to the powers that be that they find intolerable.
Bradley Harrington is a computer technician and a writer who lives in Cheyenne. Email: bradhgt1776@gmail.com.
---
Monday, August 6, 2018 9:39 AM
Buchanan's Effort to Stop Haynes' Campaign Fails
We read with great interest Secretary of State Ed Buchanan's press release concerning Dr. Haynes' victory in a hearing initiated by Buchanan. Buchanan claimed Haynes was ineligible to run for the Governor's seat based on anonymous reports that Haynes hadn't been a resident of Wyoming for the past five years.
In his statement, Buchanan attempted to justify his failure in court by implying Dr. Haynes should have forgone his right to Due Process and suspended his campaign. (Read Secretary of State's Press Release)
Buchanan, the appointed (not yet elected) Secretary of State, was the Campaign Chairman for Harriet Hageman until March 2018, and his very public and negative handling of this case smacks of political favoritism.
The ruling by Judge Campbell denied Buchanan's request for an injunction which would have stopped Dr. Haynes' campaign without allowing him the benefit of a trial. The court ruled that such an injunction has to be based on a "degree of certainty, which is not present here." The ruling also stated that it was "impractical and unfair" to bypass Dr. Haynes' right to due process.
The judge further said that based on the information reviewed by the court regarding Dr. Haynes' residency, the likelihood that the State would prevail and find Dr. Haynes to not be a resident of Wyoming is doubtful. (Read Judge Campbell's Ruling)
Dr. Haynes has stated that he is a resident of Wyoming, and has been for 35 years, and the attempts to stop his campaign with unverified claims to the contrary are purely political.
If the Secretary of State pursues the case, or continues to issue biased and negative statements, it would seem his only motivation would be the political advancement of his chosen candidate, to the detriment of both Dr. Haynes' campaign and the Wyoming taxpayers who bear the cost of the State's legal proceedings.
It's time to put an end to insider politics.
---
Saturday, August 4, 2018 5:52 AM
Judge Rules in Haynes' Favor
Laramie, WY---
After weeks of speculation by the media concerning hi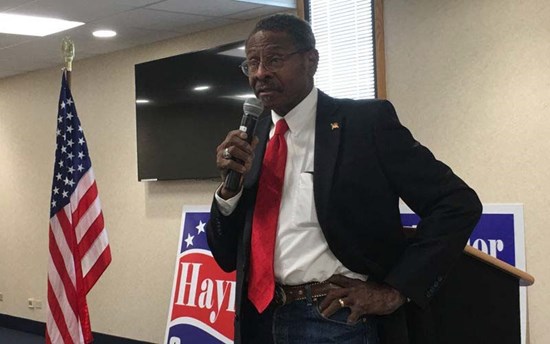 s eligibility to run for Governor, Republican candidate Dr. Taylor Haynes, announced that the court has ruled in his favor and he will continue his campaign.
This came after Secretary of State Ed Buchanan, who is the former campaign manager for Harriet Hageman, and Attorney General Peter Michael asked the court to issue an injunction to suspend Haynes' campaign. They issued a press release on July 24th stating that Dr. Haynes was not eligible to run for Governor, asserting that he had not been a resident of the state continuously for the past five years. "This was a politically motivated action based on information they received from an unverified anonymous source." Haynes said, "I have been a resident of Wyoming for nearly 35 years."
Today, District Judge Thomas Campbell, denied Buchanan and Michael's request for an injunction against Haynes. Dr. Haynes expressed satisfaction with the ruling. "Our supporters who understood this was a political attack have stuck with us during this process, but unfortunately some people may have been confused by the reports and cast early votes for a different candidate."
Haynes stated, "We have not stopped campaigning during all the disruption and we will continue pressing hard to get the word out that I am eligible to be Governor of the great state of Wyoming and all this nonsense about residency has been an attempt to confuse voters." The State could still appeal the decision, however, Judge Campbell stated in his ruling that the evidence presented to the court may be sufficient to doubt the likelihood that the state would prevail.
Haynes' is a constitutionalist who has been active in leadership positions in many local, statewide and national organizations, including twelve years on the University of Wyoming Board of Trustees. He has been a prominent member of the Republican Party, currently serving as Precinct Chair of District 45-2 Albany County. He served as a delegate to the Republican National Convention in 2016 where Donald J. Trump was nominated.
People throughout the Wyoming can find information about Dr. Haynes' activities in their community by visiting his website at www.HaynesForWyoming.com.
Read Judge Campbell's Ruling here: